A land that invites you to take a break
A space for serene and shared encounter, a place where the millenary seed of yoga grows and which respects the rigor of the initial method of Joseph Pilates. Lifestyles evolve, which implies an eternal questioning and adaptability, in order to meet the needs of our body and our mind with the greatest respect. This evolution makes them ever more stimulating, richer, more playful and above all unique disciplines.
I invite you to come, to share, to breathe, to learn, to feel, to grow, to practice intensely, but above all to enjoy, to find yourself in the silence of meditation and practice and to be happy. Make this space of Pilates but also yoga, your own home.
"In 10 sessions you will feel the difference,
in 20 sessions you will see the difference
and in 30 sessions, your body will have completely changed."
Joseph Pilates
Pilates is a discipline that develops all the muscles in a homogeneous way. The work is done from the deep and postural muscles, it is associated with breathing which provides well-being and reduced stress. Posture is corrected and improved, muscles are firmed and toned, flexibility is also worked on as a whole. This harmonious development promotes symmetry and balance, coordination and concentration, bringing the body into ideal alignment, while reducing pressure on the joints.
This method initially called "controlology" and designed by the German Joseph Humbertus Pilates at the beginning of the 20th century. It stimulates the use of the mind to control the muscles and the whole body with each movement, it allows you to work the whole body in depth and adapts to all morphologies.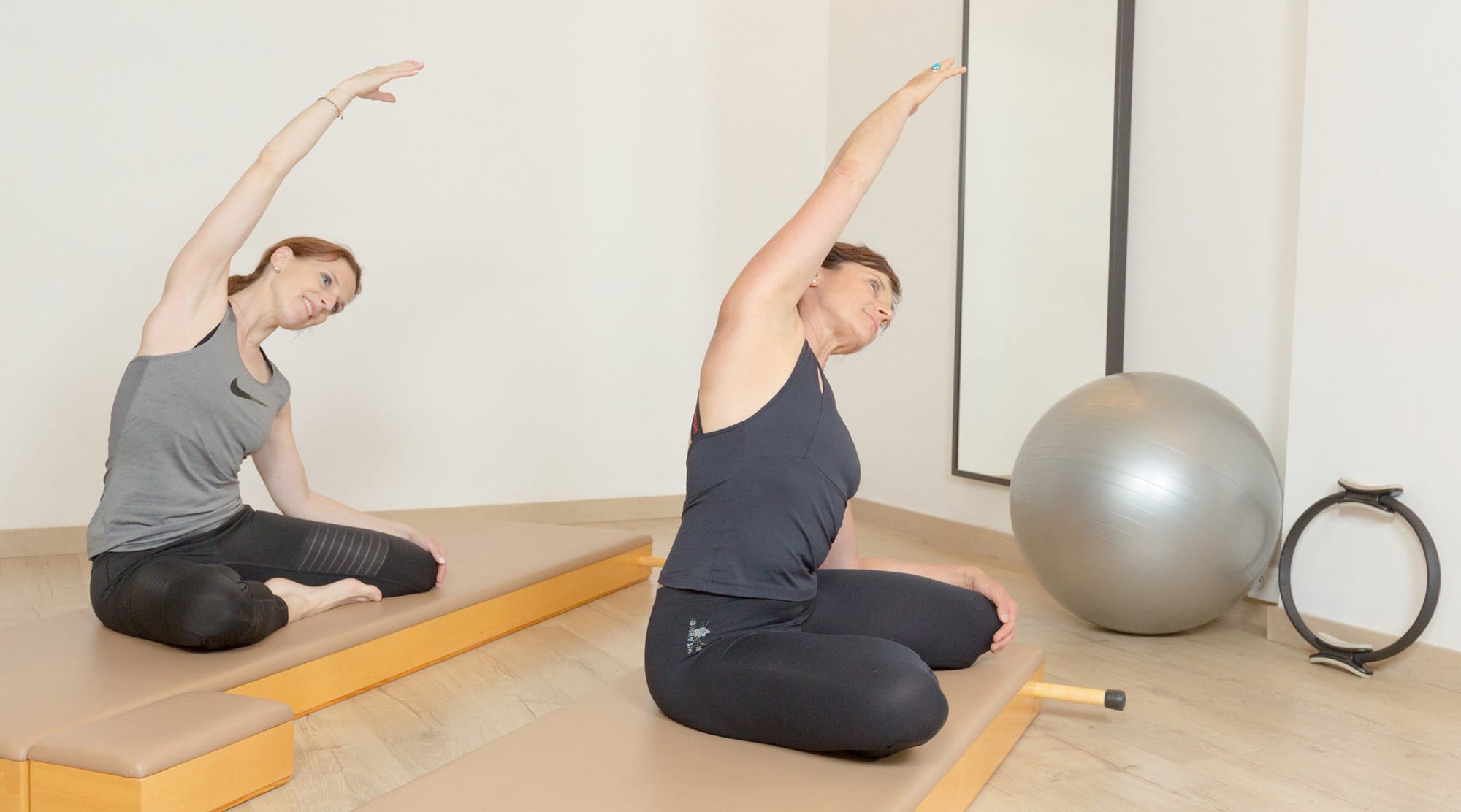 It focuses mainly on the work of the "center", essential for the stability and mobility of the spine. It facilitates the development of optimal posture, good health, general well-being and promotes the connection between body and mind. It is a method that can be practiced at any age, is aimed at both people who do little physical activity and high-level athletes.
The Pilates method aims to develop the body in a harmonious way.
She permits :
– To improve posture, flexibility and joint mobility, to help reshape, lengthen and strengthen the body, control weight problems, reduce or eliminate pain, improve sports performance, reduce stress, it is for everyone, whatever the level and at any age (+12 years old).
The idea is simple but profound. Pilates is a method that goes from the inside out, unlike other types of exercises. And that's what makes it effective.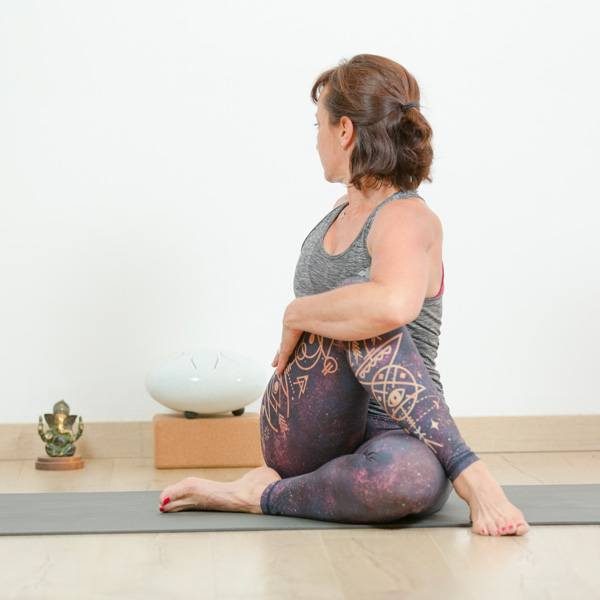 What is Yoga?
Yoga is a spiritual path, a philosophy of self-knowledge, a lifestyle, letting go, an art of living.
A yoga session allows many things: the maintenance of a certain physical form, of course, but above all it forces us to refocus on ourselves, to place our consciousness in the breath, to awaken our mind, to live in the moment, in the here and now. The joy of living, the feelings of love and harmony approved at the end of a session transform the existence in a lasting way, provided that the practice is regular. The requirement and perseverance are the key words of yoga, but the practice remains disinterested.
It is never, in any way, a performance or a competition.
"Yoga does not change the way we see things,
it changes the one who perceives them."
BKS Iyengar
This teacher follows each student attentively by giving him his advice, his classes are very varied, while respecting the fundamentals of Pilates. Despite my age (74), I find great satisfaction in it, I feel that I have acquired a better knowledge of my body during this work.

She always leads her classes with a good mood.
With patience and rigour, Nadège allowed me to progress exercise after exercise, week after week without ever injuring myself.

She was able to give me the desire to continue and find time in my very busy schedule to come and practice.

In her always clean and well-equipped studio, she shares her passion for this discipline. From the small balloon to the big balloon, passing by the magic circle and the elastic band, I discovered all the subtleties of this method.


After much research, I found the studio that offers very high quality lessons for a reasonable price. Nadège is a committed and caring teacher.

The studio is very pleasant and you are warmly received there.
For me, the best pilates studio in Marseille!
I attend Nadège's classes, twice a week.
Here are the reasons that motivate me with great pleasure : his professionalism, his in-depth knowledge of the Pilates method and other related disciplines, his rigour, his precision, his good humor and his kindness, his punctuality.

And above all, for the attention and presence she gave to each of the participants.
I am pleased to testify to Nadège's professionalism and competence as a Pilates teacher. I had the privilege of being his private student. She taught me the Reformer technique of Pilates, according to the traditional method, and introduced me to the exercises on the device which she mastered very well, her explanations were very clear. Fluid training, and the time I devoted to it went by quickly despite the intensity of the muscular work. It is clear that Nadège knows the method and that she has a very long experience. Our classes were enjoyable, and intense enough for me to note progress in class. The schedule was always respected, and everything took place in a good mood and respecting my physical limits.

I highly recommend Nadège as a Pilates teacher, especially for the Pilates method on Reformer.
Nadège is part of a category of high-level, professional teacher who is greatly appreciated by the patients of the Gatineau physiotherapy and osteopathy clinic. I had the privilege of taking her classes, she knows very well how to manage the energy of a group.
This allows us to derive maximum benefits from our classes, all in a relaxed and unpretentious atmosphere.
Nadège immediately impressed me with her in-depth knowledge of the basics and all the elements of Pilates. She also took the time to find out about any physical restrictions that her students may have and takes the time to adapt her teaching accordingly.

Nadège is always enthusiastic and knows how to vary the class routine. She is always available (even if in high demand), serious and dedicated, punctual, and ready to make the necessary efforts to prove the excellence of her work.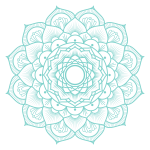 I welcome you in a friendly and comfortable structure in the small Marseille district of the Catalans in the 7th arrondissement, with several practices and disciplines for better movement and well-being.
At Studio Pilates Nai'A®, we offer a wide choice of quality, modular services, in accordance with the fundamental principles of the Pilates method and yogic practices. A practice for all levels, focused on safety for beginners and improvement for confirmed.
We offer sessions in small groups, in pairs or in private.
We offer several practices to help you move better, learn to manage your stress and your emotions for your well-being. Exercise, nutrition and healthy living advice to help you improve all aspects of your physical and mental well-being.
We offer Pilates classes on the ground with or without small equipment which are sequences of exercises seeking tonicity and flexibility work associated with specific breathing. Also Pilates sessions on specialized devices, major devices in the practice of the Pilates method.
You will also find yoga classes in our school. Quality sessions, adapted to the needs of each according to the physical conditions and the objectives of each person. All our teachers are qualified and experienced.
We work rigorously, but also with good humor.
At Studio Nai'A everyone can find what they are looking for!
"Fitness is the first necessary condition for happiness."
Joseph Pilates
20, rue César Aleman
13007 Marseille
Tel: +33 7 83 77 68 43